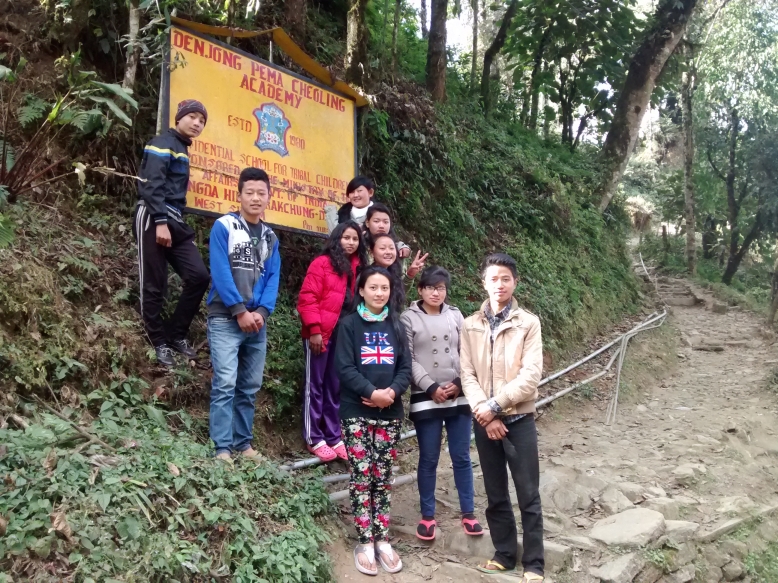 The sounds of the gong from the monastery register in my mind. Six o' clock. It's time to get up. In fifteen minutes I gather the courage to wriggle out of bed. The dawn sun illuminates
my room. I have a quick shower with ice cold water,
Khangchendzonga graces me with its presence, a wonder to my eyes every day.
I reach the school, and am greeted by a hail of "Good Morning Sir", by rosy faced children, carrying their bowls and plates for breakfast. I join them, in the queue, to kick-start a glorious morning.
That is how my days started at Denjong Padma Cheoling Academy. It is a school for tribal children in Pelling, West Sikkim, where I taught in November and December last year. It was started by esteemed monk Yapo Sonam Yongda of Pemyangtse monastery in 1980. Since then, it has been an important centre for learning in this area. From Nursery to Class X, it gives free education, lodging and food to all the students. Kids stay here from a young age and take care of themselves on their own, away from their remote villages where there isn't any school. Many here are orphans who have been adopted by the school. The school imparts cultural education on Buddhist traditions to all the students as a part of the curriculum.
Children lead a tough life here. The funds are not enough, so they are served basic meals. There is water shortage sometimes, and the boys and girls have to walk to the nearby tank across the road to fetch water for all their needs. To see all the girls and boys, washing themselves by the road is endearing and heart breaking at the same time. Their uniforms are old, and in tatters sometimes for the younger kids. Their books are handed down from one class to another, and are falling apart.
Despite all these hardships, their smile is warm as the sun. They have a spring in their step, sharing a camaraderie I haven't seen elsewhere. The older kids take care of the younger ones like their own siblings. The ones in nursery are 4-5 years old, and need to be looked after. Some of them are orphans with no families. For such students the school is their home.
I was teaching Science and Mathematics to classes nine and ten. It was clear that the school desperately needs some good, motivated teachers. Right now they have just one teacher each for Science and Maths in the higher classes, which is not ideal for the faculty as well as the students.
The students have fundamental weakness in Science, Maths and English. I am assuming it was the same in Social Science as well. Bhotia, their fifth subject is quite good, as they practice it during Buddhist prayer ceremonies. They chant these prayers regularly at Pemyangtse and Tashiding monasteries, and annually in Bodh Gaya.
The kids here are bright and quick to learn. However, due to the steady attrition of teachers, their study is affected. There isn't a good structure in place for teaching and evaluation. The teachers are not monitored about their methods, and so follow their own set patterns, which might need a relook. The approach towards learning was a little lax, for which I feel the teachers are more to blame. Then again, I had gone at the end of a session, so things might have been different earlier.
While I was there, I helped in co-ordinating the Children's Day and Sports Day events. It was a lot of fun, as I felt the energy of the young participants rub on to me. Football, volleyball, badminton, tug-of-war, and all the races were contested with fervour, by boys and girls alike. Then there was the feast at the end of it, where all the teachers helped with the preparation. It was a gala affair.
It was a revelation for me, experiencing all of this first hand. I had a great time. The boys and girls at the dormitory beside the monastery took good care of me. I regularly cooked something or the other for everyone in the evening, and we shared our meals, in the kitchen, which doubled up as the dining hall. Before dinner, I usually sat with the children as they studied. I helped them with their problems whenever needed. I developed a close bond with all the children at the monastery dorm. I have stayed in touch with some of them, learning about what they and the others are up to in the winter.
I played badminton with the teachers in the evening sometimes.  I walked up and down the roads and paths, shunning vehicles as much as possible. It was refreshing to be on my own, with no internet and the disturbance of crowded streets to bother me. The weekends were spent exploring the locations around Pelling. So the time passed away in a tizzy.
Finally, it was time to go. The tenth class students were also bidding farewell to the school, which had been their home for ten years. They were quite emotional to part from their home away from home for ten years, and prepared a valedictory dinner for the teachers and themselves. I treated them to some savories at Lotus Bakery, with a promise to return and stay in touch.
These kids need our support. They are all very attentive and eager to learn. They need better facilities and teachers. The funds from the tribal ministry is not enough, and late most of the time. Lotus bakery, which is part of the school's trust, barely supports it through the lean periods. The school doesn't seek donations, and so has no other source of funds. It needs some publicity and grants, so that better teachers can be hired, and the infrastructure improved.
The principal and the director of the school, as well as the teachers are selfless souls. They have devoted their time and energy into preparing these youngsters for the future. With a little help from others like us, we can help these children live a better tomorrow.
"You are Iron hand bloodaman! I will not let you catch me!" shrieks Abhish as we climb the millions of stairs up during the double decker root bridge trek. He keeps us thoroughly entertained as we chase after him.
"You are the boss",
making me blush.
"We want you to be God. You are the best God ever!" shouts everyone as we play mafia on the last leg of our bus journey.
There are few things in life which give you more joy, than to see kids smiling and expressing themselves. However, as I stood at the airport, waiting for the group to arrive, I was more anxious than excited. A troupe of twenty odd people, comprising mostly of unrestrained eight to thirteen year olds, promised chaos and trouble. I was to be proved wrong yet again. For these kids took care of themselves, never causing a delay, or problems, making me feel like I was with family and friends. The adults accompanying them – Madhu, Uma, Murali and Kanagheswari were equally nice, and were the ice breakers when we first met.
Traveling in two small buses, to Meghalaya, we stopped at Umiam Lake, also known as Bara Pani, and the kids ran around in delight at the views on offer. On entering Shillong, we went to view local archery and betting (Siat Khnam) in action. Excited to witness a novel cultural spectacle, they tried the bows and arrows of the participants, with abandon. Their uninhibited actions rubbed on to me.  Soon we were walking together in the night, on the deserted streets of Shillong post dinner, gazing at the stars, as the city slipped into slumber.
The next day, on the bus drive to Mawlynnong, I introduced them to mafia, the quintessential travel game. They caught on quickly, and everyone was arguing and discussing with great zeal, taking the game with seriousness only children can manage. In no time the bus ride was over, and we were walking to our first root bridge in Riwai. They looked on in wonder at this man-made natural wonder, posing and smiling for numerous shutterbugs. Later, after a sumptuous lunch in the cleanest village in Asia, we walked into a playground beside a church. They unwound here by playing Lock and Key, and later Karla (Thief) – Police, where Madhu and I joined them. I ran myself ragged, and was hit with nostalgia of childhood when I used to play the same game with friends in every possible break at school. In the evening, as we sat at Lachaumiere Guest House, and I told them about how these live bridges are built using roots of strangler figs (ficus elastica). There torrent of questions in response overwhelmed me, and I had to use Google to answer many of them.
The following morning, we headed out to our camping destination – Mawlongbna. En route, the clouds trapped between hills rose to the road. We stopped the vehicles, and everybody rushed out to experience heaven on earth, enveloped by the floating wisps of white. By now I knew everyone by name, and was thoroughly enjoying their company. After lunch at the camp, we hiked to a fossil site called Lew Luri Lura, where according to folklore, animals and humans used to trade and barter. We found pug marks and prints in the rock, which reminded me that this land was submerged under the sea long ago. Later in the evening, I read out a horror story in complete darkness, as everyone listened, holding their breath. Then, amidst a raging storm, we finished our dinner and were in our tents, as thunder and lightning added to the ghostly effect.
On the fourth day, it was kayaking time. On a beautiful spring morning, with a lake in pristine surroundings all to ourselves, the kids rushed into the water to have a ball. They were overturning each other's boats, frolicking in the water, thoroughly enjoying themselves. When it was time to go, they were reluctant to get out, like fish in water.
Our next destination was Cherrapunji Holiday Resort in Laitkinsew. On the way, because of heavy rain through the past day, we were lucky to witness numerous waterfalls even in April. Everyone was happy to have a proper bed to sleep, and warm water for a shower.
Fifth day was gloomy again, and we had to swap caving for the trek to Nongriat, because of excessive rain and high water levels in the cave. The youngsters were running down the steep descent to the valley while we adults slowly struggled behind them. The weather was pleasant and the greenery and the flitting butterflies added to lift everyone's mood. The thrill of walking on the longest root bridge, and the two other long suspension bridges, which swayed as we walked, continued to add to the day's pleasures. The sight of the double decker root bridge overawed everyone, and we took numerous pictures there. The walk back was exhausting as we trudged up the unending stairs. But with the Abhish and his hysterionics, and the two girls giving me company, we climbed up unfazed. The evening brought bonfire, and a musical performance by the locals, rounding up a perfect day.
On the penultimate day, it was time for our most adventurous outing. Krem Mawmluh is a popular caving destination in Cherrapunji. Donning our overalls, helmets and gum boots, the kids and me looked forward to this challenge. We divided ourselves into two groups for the excursion. After a short hike to the mouth of the cave, we were briefed by our guides, and were equipped with head torches. As we stepped into the dark underworld, everyone could barely suppress their excitement. We walked in silent amazement as earth's underbelly revealed magnificent features. The stalactites, stalagmites, curtains and other glittering features had us in raptures. Sukha wanted to take the jewelled features back with her to Bangalore! It was a sight to behold. We climbed, clambered and waded through the passages. At the golden fish pond, we had to turn back for lack of time. After a few group images for posterity, we were on our way back. At the end of a long day, we were glad to be back at the hotel with a warm shower and steaming food awaiting us. In the evening, we shared our moments of the trip with each other over the dinner table, where Abhish made an ever reticent Piran to laugh and smile.
In a blur, the trip was into its final day. After a brief stop at Nohkalikai falls, we were on our way to Shillong and then to Guwahati. I hugged all my new friends, young and old, and wished them a safe journey, reliving the moments of the week past. They didn't want to go so soon, and nor did I. Until next time, I promised, as they waved good bye with glittering smiles.